22 October 2013
Softball ACT strike a deal with Canberra Toyota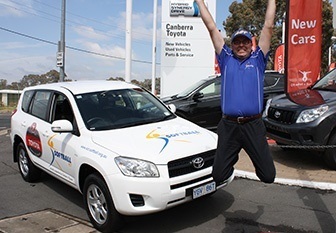 Softball ACT and Canberra Toyota have today signed a corporate partnership agreement that will help boost softball's visual profile and presence throughout Canberra and the surrounding regions.
Speaking at the official vehicle handover today, Softball ACT CEO, Matt Morrissey, said the two parties have agreed to strike a deal that will see Canberra Toyota provide Softball ACT with a fully maintained RAV 4 for the next twelve months.
"This is a fantastic partnership for softball in the ACT," Matt said.
"To have the support of an organisation such as Canberra Toyota is incredibly positive for our sport, and the provision of the RAV will greatly enhance our ability to promote softball in Canberra and the surrounding regions, with a very particular focus on junior development through local schools."
"Softball ACT boasts many players, coaches and officials who have represented Australia and we often set the benchmark for other states and territories to emulate," Matt said.
"In a similar fashion, Canberra Toyota are leaders in their field and are a very trusted brand throughout the community, which is one of the reasons why we wanted to align ourselves with them."
Canberra Toyota Used Car General Sales Manager, Chris Greenwood, said the partnership is a great way for Toyota to give back to the community and support local sport at a grass roots level.
"Canberra Toyota supports a number of sporting groups throughout the ACT as we believe that sport is a great way for people of all ages to lead an active and healthy lifestyle," Chris said.
"Softball ACT offer a range of competitions for participants at junior and senior levels, which makes it a great sport not only for children, but also for mum's and dad's, even grandparents.
"Canberra Toyota is proud to be a supporter of Softball ACT and we look forward to working with them in promoting their sport throughout Canberra and the surrounding regions."